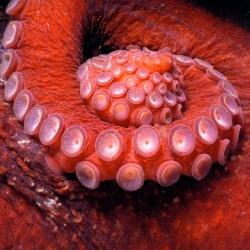 OpenROV, a mini submarine developed in a Silicon Valley garage, has been hailed by the world's media as the key to unlocking the earth's last frontier.

No pressure, or anything.

The 20-something creators, David Lang (pictured, above) and Eric Stackpole, did not anticipate that their open-source robot would infatuate the press or be viewed as the low-cost alternative to subs like the Deep Sea Challenger, which took filmmaker, James Cameron, to the deepest, darkest recesses of the western Pacific.

"At the outset, we thought this might be a great project to discover underwater caves that are too small for divers," said Lang when I met up with him at open-access workshop TechShop in San Francisco, where he and Stackpole make their parts. "Our ideas for what we wanted to use it for were dwarfed by the community."

It's still early days, but OpenRov is already being used by environmentalists and marine archeologists to discover shipwrecks in Cuba, spotlight pollution in the high seas, and by treasure hunters to look for gold in unchartered waters. In November, Stackpole will be headed to Antarctica as an under-ice pilot in a larger-scale, commercial grade ROV.

"We don't want to be the wealthiest mini sub builders in the world," said Lang. "Our goal is to have a high return on adventure."

On popular crowdfunding platform Kickstarter, OpenROV took on a life of its own and far exceeded its funding goal by netting $111,622 from 484 backers.