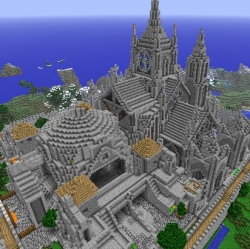 Mojang's lead developer Jens Bergensten has said he is "looking forward to" big companies making games similar to the fairly unique brick-building adventure, Minecraft.

In a chat with Gamasutra, Bergensten pondered the possibly that Minecraft could have come from a big-budget developer: "No, it would probably be a very different game if at a large company," he said.

"But I'm kind of looking forward to bigger companies taking on the same kind of genre, if you should call it that. Because I think it could make quite cool games, you know, the sandbox environment," he added.

Even if a major studio did decide to challenge Minecraft head-on, Bergensten says Mojang's maintains an advantage in its indie-style community-led approach to development.

"One thing that I like about Mojang is that we're allowed to communicate directly to everybody. We don't really have much secrets," he said.