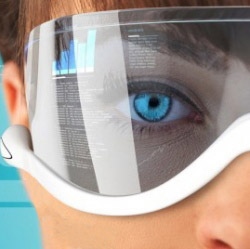 A patent applied for by the US tech firm describes how the eyewear could be used to bring up statistics over a wearer's view of a baseball game or details of characters in a play. The newly-released document was filed in May 2011 and is highly detailed.

If a product comes to market it could challenge Google's Project Glass. Google is planning to deliver its augmented reality glasses to developers early next year and then follow with a release to consumers in 2014.

Smaller firms – such as Vuzix, TTP and Explore Engage – are also working on rival systems. Although some have questioned how many people would want to wear such devices, a recent report by Juniper Research indicated that the market for smart glasses and other next-generation wearable tech could be worth $1.5bn (£940m) by 2014 and would multiply over following years.

Microsoft's patent was filed by Kathryn Stone Perez, executive producer of the Xbox Incubation unit which earlier developed the Kinect sensor; and John Tardiff, an audio-video engineer who previously worked at Apple.

It notes that entertainment organisers often provide screens showing information to enhance audience's enjoyment of their events. But looking at these displays forces the user to turn their head away from the action – for example looking at the scoreboard at a baseball game, or translated lyrics at the side of the stage at an opera.

Microsoft suggests augmented reality headwear would avoid the risk of missing a key moment and also make it possible to see effects otherwise reserved for people watching on TV – for example a computer-drawn line superimposed over an American Football pitch showing the minimum 10-yard distance a team needs to advance the ball.