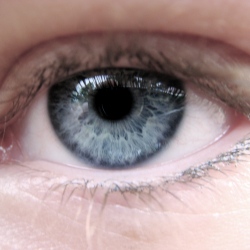 In a promotional video from Microsoft Research, Professor Babak Parviz of the University of Washington summarizes the research. "We've been able to put a glucose sensor on a contact lens and show that it can detect glucose at levels that are found in the tear film," he explains. "Our broader group has actually designed and built small radios that can interface with this glucose sensor and send out information wirelessly."

Sufferers of Type 1 diabetes have to monitor their blood sugar levels several times a day. It's a painful procedure requiring the piercing of the skin with a spring-loaded needle. With what Microsoft cites as an example of a Natural User Interface (NUI), it hopes its "Functional Contact Lens" may one day remove the need for this invasive means of monitoring.

Though the Functional Contact Lens aspires to a more advanced means of reporting than mere common change, the means of detection also differs from previous research. "There are now various groups working on non-invasive measurement of tear glucose," Desney Tan told Gizmag. "Professor Zhang's lab has been largely using nanostructured optical probes embedded in hydrophilic hydrogen lenses, and they've had some successes recently."