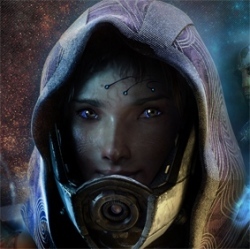 Players have complained that decisions taken during the game have little effect on the ending – a key selling point of the series.

Canada-based developer Bioware has stood by the conclusion which it describes as "bittersweet".

However, they hinted extra material could be made available to download.

"We'll keep listening, because your insights and constructive feedback will help determine what that content should be," executive producer Casey Hudson wrote in a forum post.

"This is not the last you'll hear of [main character] Commander Shepard."

Since the series' first release in 2007, players have been able to make moral decisions throughout all three games – all with an impact on the end of the saga.

Owners of Mass Effect 3, which was released at the start of this month to great critical acclaim, could upload save game files from the first two titles so these decisions could be carried forward and impact on the new game.

The campaign for an alternative ending is being publicised in the UK by Sebastian Sobcyzk, a boutique clothing store owner in Chelsea, London.

He told the BBC that gamers feel cheated by the game's conclusion.

"They just completely destroyed the whole game for us.

"If I wanted to get my soul crushed, I could just turn on the TV and put the news on."

Mr Sobcyzk said backers of the campaign had "voiced their displeasure with their wallet" by donating to Child's Play, a charity which provides toys and video games to children in more than 70 hospitals worldwide.

Backers had raised $70,000 (£44,000) by Tuesday morning.

Mr Sobcyzk called for a downloadable patch to be made available to add additional endings. On gaming forums, fans of the series have complained that no matter how "good" you are during the game, the ending is still a sad one.

"The game is about choices and consequences," explained Mr Sobcyzk.

"You do good things and bad things. We were promised by the developers to have 16 different endings.
"All these choices you make and you get a choice of three different endings which are exactly the same, minus a couple of tweaks here and there."