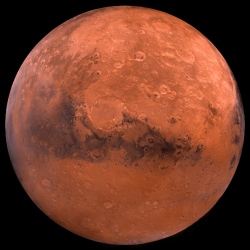 NASA's InSight Mars lander has successfully landed on Mars. InSight's two-year mission will be to study the deep interior of Mars to learn how all celestial bodies with rocky surfaces, including Earth and the Moon, formed. It is on the Mars' equator on the western side of a flat, smooth expanse of lava called Elysium Planitia.

InSight will begin to collect science data within the first week after landing, though the teams will focus mainly on preparing to set InSight's instruments on the Martian ground. At least two days after touchdown, the engineering team will begin to deploy InSight's 5.9-foot-long (1.8-meter-long) robotic arm so that it can take images of the landscape.

InSight will operate on the surface for one Martian year, plus 40 Martian days, or sols, until Nov. 24, 2020.

InSight (Interior Exploration using Seismic Investigations, Geodesy and Heat Transport) is a NASA Discovery Program mission.