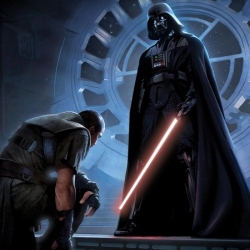 Like Luke attempting to wrench his sunken X-Wing from the swamps of Dagobah using the Force, I'm using my own imaginary mind powers to will LucasArts to pull its marquee franchise from the muck and make a great Star Wars game. We'll begin to find out if the Force is strong with this one on May 31st. That's when LucasArts plans to make an announcement related to Star Wars gaming.

In early May, we caught wind of Star Wars 1313, a trademark filed by Lucasfilm for a new videogame project. Now it appears we'll learn what 1313 is (aside from a codename used by Boba Fett in a Star Wars novel) on Thursday.

Posting on the official Star Wars Facebook page, LucasArts wrote: "What is something that will be announced by Spike, fully unveiled at the E3 Expo, and has to do with Star Wars gaming? The answer to the riddle will be yours – tune into Spike this May 31st at 10pm PST."

Awful riddles aside, t's worth noting this appears to be the first Star Wars game created in-house by LucasArts since The Force Unleashed 2, and more importantly, since Paul Meegan took over the studio and cleaned house. Meegan became president of LucasArts in June 2010, and shortly thereafter laid off a large portion of the gaming studio's staff. He also cancelled an unannounced Star Wars game (believed to be a new Battlefront) already in pre-production.

Has Meegan set LucasArts on the right course? Am I a luminous being with an ally in the Force? We'll get a good idea on Thursday night.