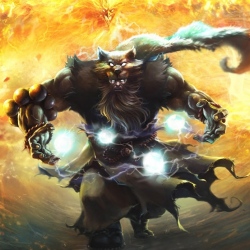 Riot Games announced today that their hit online game League of Legends has surpassed the 30 million registered-player mark along with 11.4 million monthly active users. They have reason to crow, as even the ubiquitous World of Warcraft only reports 10.3 million subscribers.

Perhaps more significantly, over a million games of League of Legends are played each day, many consisting of two to five players, reports the company. In addition, at peak times, the game sees more than 1.3 million concurrent players across North America and Europe. That's a lot of gamers. League of Legends is a Multiplayer Online Battle Arena (MOBA) game, where you play against other online opponents in a combat arena. It's a fast game, like the equivalent of a pick-up basketball game.

Recently acquired, Riot Games is surely adding value for their majority holders, China's Tencent. When purchased back in February for nearly $400 million, Riot Games was reporting "only" 1 million active players. Today's announcement is big news for them, their new majority owners, and for gamers who play the popular game online.