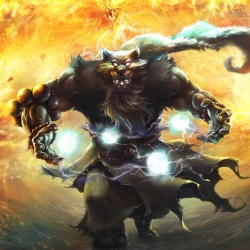 Riot Games, developer of popular free-to-play online game League of Legends, has announced its opposition to the Stop Online Piracy Act (SOPA). Chief Executive Office Brandon Beck announced in a forum statement "While we do support efforts to prevent online piracy, the current form of this legislation comes at far too high a cost for us, our players, and online communities across the internet."

The SOPA bill is intended to target rogue websites and prevent piracy, but critics say it will stifle creativity, cost jobs and curb free speech. If it passes, SOPA will give the U.S. government and copyright holders the authority to seek court orders against websites associated with infringing, pirating or counterfeiting intellectual property.

League of Legends has more than 30 million registered players, and Beck has reached out to them, saying "We're not usually inclined to comment on politics. We're a game company, and making games is just a whole lot more fun. But there is legislation under consideration today by the United States Congress that gives us serious concern."

Beck explains how SOPA would specifically affect League of Legends, with the potential loss of the game's online forums and restrictions on the sharing of game videos and live streams, due to copyright concerns. He adds that SOPA may "raise serious constitutional free speech issues, and could even compromise the basic security infrastructure of the internet."

Community news sharing site Reddit recently announced that it plans to shut down on Jan 18 in protest of the proposed SOPA legislation. Speaking on a dedicated Reddit thread, Riot Games' Attorney, going by the user name RiotLomar, said that while his company is not currently considering a blackout of its own, "nothing is off the table."

He explains how he believes SOPA opponents can help prevent the bill from passing: "Where we can ultimately win, is in public action.….Congressmen, whatever you think of them, will always value votes over money. If a single Congressman receives enough letters, they will respond. If you make this an election issue – that's how you kill SOPA". He adds "I'd much rather anyone saved the time it would take to fill out a petition to write your Congressperson. And to bug everyone you know to do the same."

Riot Games is not the only gaming company that has come out against the controversial SOPA bill. Major League Gaming, a professional electronic sports operation, has stated it is "firmly against both the specifics of SOPA and the philosophy behind the bill." Epic Games, creator of the hit Gears of War series, has also declined to support the SOPA legislation, in its current form.