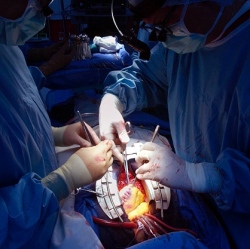 It is the first time the procedure has been performed in Europe. The technique, developed in India, offers patients the chance of a much faster recovery after the operation. Normally a kidney transplant would involve serious open surgery and a sizeable incision to perform the transplant.

The team at the Royal Liverpool used keyhole surgery to implant the donor kidney through an incision of just 6cm (2in). A smaller incision is a lot less invasive for the patient and heals more quickly. The technique was developed by Prof Pranjal Modi at the Institute of Kidney Diseases and Research Centre in Ahmedabad.

He said: "It is tremendously beneficial to the patient. I talk one-to-one to all the patients and they are so happy. "Their outcomes are so good that I am encouraged to do it further and further." Brian Blanchfield, a company director, had spent years living with a failing kidney before his sister Pam donated one of hers.