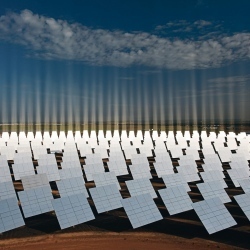 It's easy to peg Apple as a villain these days, given the situation with workers in China manufacturing its products under unsafe and even inhumane conditions. But Apple wants you to see its good side too — the side that recycles, constructs energy efficient buildings, and uses solar energy.

The report shows the environmental impact of Apple's retail stores, corporate buildings, and data centers. Apple's Maiden, North Carolina, data center (pictured right) was built to be highly energy-efficient with a "white-cool" roof, the use of outside air to cool the facility at night, and power monitoring.

And coming later this year, a solar array — a group of solar panels — will help power the plant, taking it at least partially off-the-grid. Apple writes in the report that the 100-acre, 20-megawatt facility will generate 42 million kWh of clean, renewable energy each year. The facility has also earned LEED Platinum certification, the highest award for energy-efficient buildings.

At the company's headquarters in Cupertino, California, Apple has saved 5 million kilowatt-hours by retrofitting buildings with window and roof coverings and installing energy efficient lighting, according to the report. The company has also implemented shuttle buses to encourage greener commutes and has taken steps to reduce the amount of food waste at its headquarters.