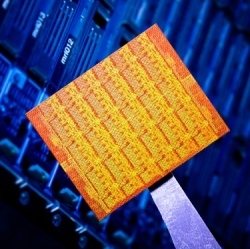 Intel shaved more than a billion dollars off its expected revenue in the third quarter, sending shockwaves through the PC industry. The shortfall may be based on simple buying logic. Consumers may be waiting for Microsoft to launch its touchscreen-friendly Windows 8 operating system on Oct. 26.

But the toll could be severe throughout the large personal computer ecosystem, where all sorts of dynamics are affecting the big picture. Every computer microprocessor that Intel doesn't sell impacts the makers of motherboards, peripheral makers, and PCs. So Intel's status is a bellwether for the industry means that maybe $5 billion in industry sales could be absent during the third quarter.

"When Intel doesn't sell an extra $1 billion in chips, that's a big multiplier effect on distribution, contract manufacturers, PC brands, motherboards, and other suppliers," said Roger Kay, an analyst at Endpoint Technologies.

That could take a toll on the stock prices of not just Intel and Microsoft, but the likes of Hewlett-Packard, Lenovo, Seagate, Foxconn, Toshiba, and Dell. Intel's stock is currently down 3.73 percent at $24.16 a share. That means that Intel is now worth a fifth of Apple, whose tablet computers (which use Apple-Samsung chips) are selling so briskly that they're stunting demand for PCs.

Intel lowered its third-quarter sales outlook to $13.2 billion in sales, down from its previous range of $13.8 billion to $14.8 billion. It also shaved its gross profit margin estimate from 63 percent to 62 percent. That means the September quarter revenues will now be below the second quarter revenue of $13.5 billion. Intel blamed the problem on computer makers reducing their inventory ahead of Windows 8, weaker PC demand, and slower growth in the emerging markets of Brazil, Russia, India, and China.

Vijay Rakesh, an analyst for Sterne Agree, said that Intel has multiple challenges in the PC market. Ultrabook sales are slower than expected, as are commercial market sales. Ultrabooks are the thin and powerful laptops that resemble Apple's MacBook Air. Next week at the Intel Developer Forum, Intel will talk about its real solution for that space, code-named Haswell, a new Atom microprocessor that will ship with Windows 8 software sometime next year.