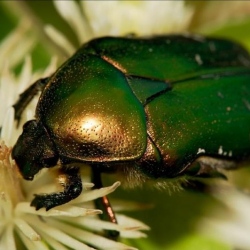 The finding is yet another in a growing list from universities across the country that could bring the creation of insect cyborgs – touted as possible first responders to super spies – out of science fiction and into reality. In this case, the power supply, while small, doesn't rely on movement, light or batteries, just normal feeding.

The work is published in the online Journal of the American Chemical Society.

"It is virtually impossible to start from scratch and make something that works like an insect," said Daniel Scherson, chemistry professor at Case Western Reserve and senior author of the paper.

"Using an insect is likely to prove far easier," Scherson said. "For that, you need electrical energy to power sensors or to excite the neurons to make the insect do as you want, by generating enough power out of the insect itself."