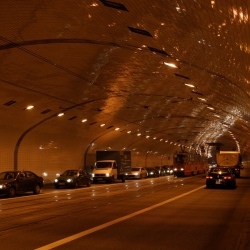 The race was run on Thunderhill Raceway in California between an Audi TTS that can drive itself and a racing car driver familiar with the circuit. The human driver completed a lap around the circuit a few seconds faster than the robotic car.

The race was part of research to develop control systems that will help to make domestic cars more autonomous. The robot car in the race has been developed by researchers at the Centre for Automotive Research at Stanford University (Cars).

Called Shelley, the autonomous vehicle is fitted with sensors that work out its position on the road, feed back information about the grip of its tyres and help it plot the best route around the circuit.

Prof Chris Gerdes, head of the Cars Lab at Stanford, said Thunderhill was chosen because its 15 turns present the car's control systems with a wide variety of challenges. Some corners can be taken at high speed, some are chicanes, others are sharp and come at the end of long straights down which the car hit a top speed of 115mph (185kph).

Once familiar with the three-mile circuit the car was raced against one of Thunderhill's staff who was very familiar with the track and logged a slightly faster time.

"What human drivers do consistently well is feel out the limits of the car and push it just a little bit further and that is where they have an advantage," said Prof Gerdes.