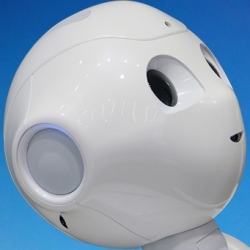 HP Labs turned 50 this year, and in honor of past inventions such as the inkjet printer, the company is hosting an event that celebrates its view of the future. Shane Wall, chief technology officer and global head of HP Labs, talked to the press about four trends that will drive technology for the next 30 years.

The first trend is rapid urbanization. By 2030, we'll have 41 mega cities, or those that have more than 10 million people. By 2040, that will be 50, with many of them in China, India, and Africa, Wall said. That means products will be designed with those demographic changes in mind. Urbanization will take a toll on the environment.

The second trend is changing demographics. Wall said 97 percent of the world's growth will be in emerging markets. The population will age as well.

The third trend is hyper globalization. "As much as some talk about walls, the move to a global environment will be unstoppable," Wall said. "The emergence of China, India, Africa. By 2025, over half of Fortune 500 companies will be outside the U.S."

The fourth trend is accelerated innovation. Smartphones will not be 10 times more powerful in a decade. They will be a billion times more powerful. (Presumably because they're connected to a near-infinite cloud).

HP's vision for products to serve people in the coming decades is a focus on "blended reality," or a the combination of digital and physical worlds. HP wants to create immersive experiences that help shape our everyday lives.

Wall pointed out four ways that HP is focusing its research efforts to address the trends:

3D transformation

Internet of All Things

Microfluidics

Hypermobility

He said that 3D transformation is something that we'll see as 3D printing and personalized manufacturing make an impact on the world.

"The vision we are driving to is the Internet of All Things," Wall said. He said that includes tables, chairs, and everything that moves through a supply chain. Microfluidics, or labs on a chip, is also a big trend. And the last research effort will focus on hypermobility.

We stare at our phones 137 times a day. In the future, the "phone" will be on us, either as a wearable or "on your body, attached to your body, a part of your body," Wall said.

Wall said that the city will be reinvented and we'll have another industrial revolution.