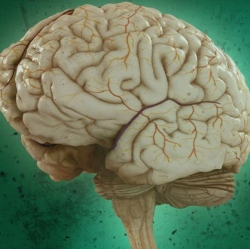 Repression of a single protein in ordinary fibroblasts (connective tissue) is sufficient to directly convert them into functional neurons, scientists in the U.S. and China have discovered.

The findings could have far-reaching implications for the development of new treatments for neurodegenerative diseases like Huntington's, Parkinson's and Alzheimer's.

In recent years, scientists have dramatically advanced the ability to induce pluripotent stem cells to become almost any type of cell, a major step in many diverse therapeutic efforts.

The new study focuses instead upon the surprising and singular role of PTB, an RNA-binding protein long known for its role in the regulation of alternative RNA splicing.

In in vitro experiments, scientists at University of California, San Diego School of Medicine and Wuhan University in China describe the protein's notable regulatory role in a feedback loop that also involves microRNA — a class of small molecules that modulate the expression of up to 60 percent of genes in humans. Approximately 800 miRNAs have been identified and characterized to various degrees.

One of these miRNAs, known as miR-124, specifically modulates levels of PTB during brain development. The researchers found that when diverse cell types were depleted of PTB, they became neuronal-like cells or even functional neurons — an unexpected effect.

According to principal investigator Xiang-Dong Fu, PhD, professor of cellular and molecular medicine at UC San Diego, it's not known which neuronal signal or signals trigger the loop. But the ability to artificially manipulate PTB levels in cells, inducing them to become neurons, offers tantalizing possibilities for scientists seeking new treatments for an array of neurodegenerative diseases.