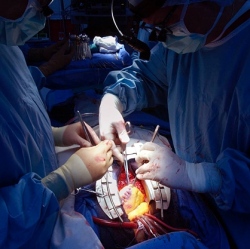 A man created a 3D scan of his own kidney to help the surgeons who were operating on him. John Cousins had been giving a presentation to doctors about the future of 3D printing in the NHS when he collapsed and was taken to hospital. After receiving images confirming he had a kidney stone, he used them to print a model used in the operation.

Mr Cousins said: "Whilst I was lying in bed I thought, hang on, we could utilise the technology." On Monday, surgeons at Southampton General Hospital referred to the model during a two-hour operation to remove the stone. Mr Cousins had been explaining the virtues of the technology to surgeons from Bournemouth Hospital when he fell to the floor in agony.

"It was the sheer pain, I couldn't take it anymore," he said. "I was just demonstrating how the machine works, but I was in so much pain that 10 minutes later I was in an ambulance." Doctors discovered Mr Cousins had both appendicitis and a "stag head" kidney stone, so called because of its antler-shaped branches.

Mr Cousins said: "We believe 3D printing should be for all, and not just for one-offs. "At the moment they look at a 2D screen. If we can give them a physical model ultimately they could reduce the time it takes for the operation, and if you do that you can reduce infection rates." Surgeon Bhaskar Somani said the technology, which is more often used in "high-end" operations such as hip replacement surgery, could speed up procedures by 30 minutes.