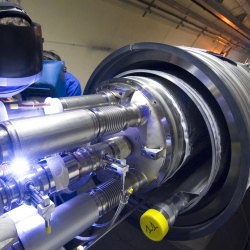 CERN's announcement on July 4 — that experiments performed by the Large Hadron Collider had discovered a particle that was consistent with the Higgs boson — has passed a key step towards becoming ratified science: Its findings have been published in the peer-reviewed journal Physics Letters B.

Back in July, both the CMS and ATLAS teams — teams of scientists tasked with analyzing the data produced by the CMS and ATLAS detectors — announced that they'd discovered a new elementary particle. CERN did not say that this was the Higgs boson, the so-called God particle, but as the Standard Model of particle physics only has one undiscovered particle remaining, it probably is the Higgs boson. Following CERN's announcement, both the CMS and ATLAS teams submitted their findings to Physics Letters B — and today, both of their research papers have passed peer review by the scientific community, effectively becoming… science.

Before we actually know what the new particle is, CERN, the LHC, and the CMS and ATLAS teams must perform additional tests. The LHC had been scheduled to shut down for upgrades, but following the July announcement it has instead been smashing protons together nonstop, to produce more data for CMS and ATLAS to analyze. By December, it is hoped that both teams will have a much better idea of the properties of the new particle, and whether it is actually the Higgs boson. There is always the outside chance that it's another particle entirely, which would turn our understanding of the universe on its head — in a good way.