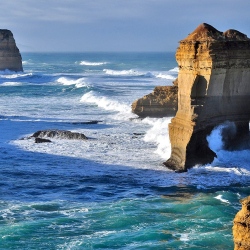 The first commercially licensed grid-connected wave-energy device in the nation, designed by Ocean Power Technologies, is in its final weeks of testing before a planned launch in October, The New York Times reports.

Last month, the Northwest National Marine Renewable Energy Center in Oregon — financed by the United States Department of Energy in collaboration with Oregon State University and the University of Washington — deployed one of the first public wave energy testing systems in the nation, called Ocean Sentinel, about two and a half hours from Portland, in Newport.

The onboard computer in each buoy, in communication with an array of small devices called wave riders that float farther out in the ocean, adapts, or "tunes" to each incoming wave, adjusting the way the giant internal shaft rides up and down as the swell passes through. The up-and-down motion of the shaft creates the electricity, which goes to shore through a seabed cable.


In related news Monday from Bloomberg, AW-Energy Oy, the Finnish developer of systems that generate power from the motion of waves, has raised $9 million from investors including the country's biggest utility Fortum Oyj (FUM1V) to commercialize its its WaveRoller device, which is affixed to the sea floor and generates power as waves move a panel back and forth.