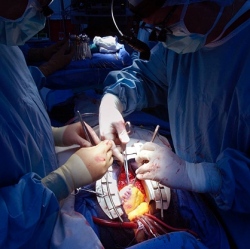 Millions more people should be put on cholesterol-lowering statin drugs to protect them against heart attacks and strokes, according to draft guidelines for the NHS in England. The National Institute for Health and Care Excellence (NICE) says the scope for offering this treatment should be widened to save more lives.

Death rates have been decreasing in recent years, but cardiovascular disease remains the leading UK killer. It claims about 180,000 lives a year.

Currently, doctors are meant to offer statin tablets to the estimated seven million people who have a 20% chance of developing cardiovascular disease over 10 years, based on risk factors such as their age, sex, whether they smoke and what they weigh.

NICE is now suggesting that people with as low as a one in 10 or 10% risk should be offered statins.

Doctors will need to "make a judgement" about the risks to people who have a less than 10% risk of developing cardiovascular disease and advise them appropriately, say the draft guidelines.

The NHS currently spends about £450m a year on statins. If the draft recommendations go ahead, this bill will increase substantially, although the drugs have become significantly cheaper over the years.