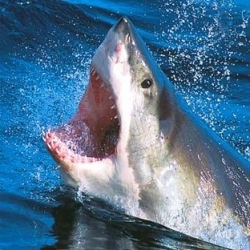 A great white shark called Lydia is about to make history as the first of its species to be seen crossing from one side of the Atlantic to the other. The satellite-tagged 4.4m-long female is currently swimming above the mid-Atlantic ridge – which marks a rough boundary line between east and west. Lydia was first tagged off Florida as part of the Ocearch scientific project.

The shark has travelled more than 30,500km (19,000 miles) since the tracking device was attached. Dr Gregory Skomal, senior fisheries biologist with Massachusetts Marine Fisheries, told BBC News: "No white sharks have crossed from west to east or east to west."

Lydia is now roughly 1,600km (1,000 miles) from the coasts of County Cork in Ireland and Cornwall in Britain, and nearly 4,800km (3,000 miles) from Jacksonville, Florida, where she was tagged by scientists in March 2013.

Dr Skomal explained: "Although Lydia is closer to Europe than North America, she technically does not cross the Atlantic until she crosses the mid-Atlantic ridge, which she has yet to do.

"She would be the first documented white shark to cross into the eastern Atlantic."

The mere act of tagging a great white shark (Carcharodon carcharias) is a feat in itself. The scientists have been using a custom-built 34,000kg (75,000lb) capacity hydraulic platform, operated from their research vessel the M/V Ocearch, to safely lift mature sharks so that researchers can tag and study them.