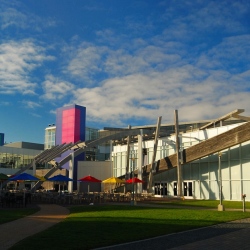 Google showed off a prototype self-driving car that does away with key features of the cars we see everyday. People don't need to control these new prototypes, so it makes sense that Google left out a steering wheel, pedals, mirrors, and other components drivers normally use to navigate cars.

Google cofounder Sergey Brin discussed the latest results of the tech giant's research at Re/code's Code Conference today in Rancho Palos Verdes, Calif. Google is now producing 100-200 prototypes of the model, Brin said. They exclude back seats and top off at 25 mph, according a Google blog post.

The company has been working on driverless car technology for years. Now that it's building more than just a few vehicles, we could see performance improvements and, of course, more hype. It's unclear how things will play out business-wise, although it looks like Google won't be on its own in this endeavor. "We expect we'll work with partners in the future," Brin said.