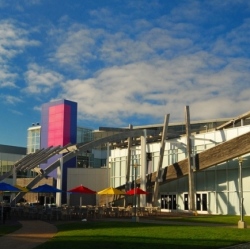 Google has made no secret of its desire to target emerging markets and get more people using its services. And at its second "Google for India" event in New Delhi today, the internet giant unveiled myriad new products, programs, and updates as it looks to ramp up its efforts to get in front of "the next billion" internet users.

YouTube Go: Google announced a new "offline first" YouTube app, which the company says has been in the works for the past year. Available only in India initially, YouTube Go is now open for registrations, though it's not quite ready for prime time.

For context, YouTube first introduced offline mode in its main app for India, Indonesia, and the Philippines back in 2014. The company later expanded the feature to cover more markets, including the Middle East. Then a few months back, it introduced a new "Smart Offline" feature in India that allows users to schedule video downloads during cheaper, off-peak hours.

But YouTube Go has been built from the ground up to work where there is poor connectivity or none at all, with users able to choose their resolution when saving or streaming videos, basically, if they're on a slow connection, they can elect a lower resolution that will speed things up and consume less data.

Last year, Google promised to bring Wi-Fi to hundreds of train stations across India, an initiative that kicked off in Central Mumbai in January. By April, that number had hit 10 stations, and today it's sitting at more than 50 across the country.

With that in mind, Google is now launching Google Station to extend the program beyond railway stations and outside of India, with plans in place to partner with new venues, organizations, networks, and more to bring "fast, reliable Wi-Fi to the world." Through the rollout, Google will provide "software and guidance on hardware" to create fast Wi-Fi zones, with a unified login easing users onto networks as they move around.

"We're just getting started and are looking for a few strategic, forward-thinking partners to work with on this effort," explained Caesar Sengupta, vice president for Google's next billion users division, in a blog post.

Multilingual option and media compression: Two additional updates were announced today, both aimed squarely at those on patchy connections. Google Chrome now automatically compresses MP4 videos, which Google claims will help save "up to" 67 percent of data, while the browser will also now optimize web pages when on slow networks, such as 2G. The new simplified pages strip out unnecessary content to present just the "essentials" from a given page.

Additionally, Chrome for Android has gained a new download feature for saving online content such as videos, web pages, music, pictures, and more, so that users can line up pages while they're on Wi-Fi to access offline later. Similarly, the Google News and Weather app for Android now sports a "Lite mode" that keeps headlines and other key top-level information, but strips out the rest while users are on slow internet connections.

The battle for India: As a country with a population of around 1.3 billion people, India has emerged as a key battleground for internet companies. However, most of the country's citizens still aren't online, hence the concerted effort to get people online AND to get them using specific services, even where internet access is poor. This is why Google is adopting a two-pronged approach to the problem; it's pushing to improve internet connectivity, while also making its own services easier to access on poor connections.

Facebook, too, has been fighting for mindshare in India. At a Townhall Q&A at the Indian Institute of Technology (IIT) last October, Mark Zuckerberg explained why India is so interesting to his company. To paraphrase the Facebook founder and CEO, Facebook has 130 million users in India, out of a population of more than one billion people. (That's a large pool of untapped ad-viewing eyes.)

"Our mission is to give everyone in the world the power to share what's important to them and to connect every person in the world," said Zuckerberg. "And India is the world's largest democracy. There are a billion people in India who do not have access to the Internet yet, and if we care about connecting everyone in the world, you can't do that if there are so many people who don't have access to basic connectivity."

It's clear that Google and Facebook are going head to head in what will prove to be a lucrative market, as millions more people go online. But these initiatives aren't just about India; the strategy applies to any markets that experience hiccups connecting to the internet, be they in the West or in emerging regions.