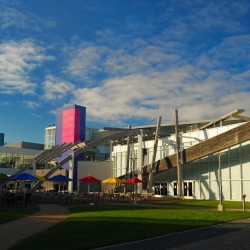 We can never accuse Google of thinking small. The search giant today unveiled a website for "Solve for X," a conference for big thinkers to discuss "radical technology ideas for solving global problems."

Yes, it sounds ridiculously geeky, but it's the sort of project from Google that could end up creating some truly next-generation technology and solutions. (Let's not forget this is the company that is already pioneering self-driving car technology.) Google seems to be aiming directly at the people who get hot and bothered over the much-hyped TED conference (this reporter included).

This conference may have something to do with Google's poaching of senior Apple director Simon Prakash for a "secret project," though right now it's unclear if he's working on Solve for X.

The Solve for X conference seems to go hand-in-hand with Google X, the company's secret lab for fantastical endeavors. The Solve for X site isn't yet open to the public, but you can sign up to be alerted when it does. Google has released a short promo video (above), and other clues have popped up over the weekend as well, like instructions for presenters hidden within the CSS code of the site.

Richard DeVaul, a "Rapid Evaluator" at Google, also divulged some details about the conference on his Google+ page. It seems Google already held an inaugural conference over the weekend, with talks on "transforming education, 5x improvements in agriculture through better decision support, synthetic biology and carbon-negative biofuels." DeVaul says that Google will have videos of the presentations on a YouTube channel up later today.