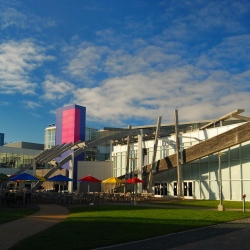 Google has unveiled its Fiber web service in Kansas City, offering insane speeds that are 100 times faster than standard broadband, the company announced today.

The search and advertising giant originally announced back in March 2011 that Kansas City, Kan. would be the first community to get 1 Gbps Google Fiber, but Kansas City, Mo. was added to the roster just a few months later. The Kansas City metro area now finally knows how Google will add the service to the city and how much it will cost: $70 per month.

"Google Fiber is 100 times faster than today's average broadband," Milo Medin, VP for Google Access, wrote in a blog post "No more buffering. No more loading. No more waiting. Gigabit speeds will get rid of these pesky, archaic problems and open up new opportunities for the web. Imagine: instantaneous sharing; truly global education; medical appointments with 3D imaging; even new industries that we haven't even dreamed of, powered by a gig."

The service is not available just yet, but Google will begin rolling it out this year to neighborhoods that show interest. Google wants KC residents to pre-register on Google's Fiber site, and they can do so by Sept. 9. Once that day hits, Google will build out fiber in the neighborhoods with the most pre-registrations.

Kansas City will not be the first city with 1 Gbps broadband service — that honor goes to Chattanooga, Tenn. However, Chattanooga's service costs $350 a month, while Google's is $70 per month. Other providers looking at these kinds of speeds include California's Sonic.net and startup Gigabit Squared.

While these kinds of speeds aren't available in most cities, the next-best thing might be the recently launched 300 Mbps service from Verizon. A similar 300 Mbps Internet service is supposedly also on the way from Comcast.