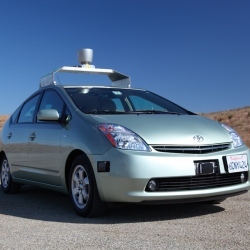 If you have trouble imagining Google's self-driving cars actually making their way out of the lab and into normal life, watch this video of a blind man running errands from the driver's seat of a test vehicle.

Steve Mahan, who says in the video he's "well past legally blind" with 95 percent of his vision lost, buys tacos from a drive-through, picks up his dry cleaning, and talks about how much the promise of independence means to him.

Google released the video this week, along with a milestone: Its autonomous cars have completed 200,000 miles of computer-led driving.

The company also preemptively warned watchers that Mahan took a "carefully programmed route."

"We organized this test as a technical experiment, but we think it's also a promising look at what autonomous technology may one day deliver if rigorous technology and safety standards can be met," said Google's fine print.