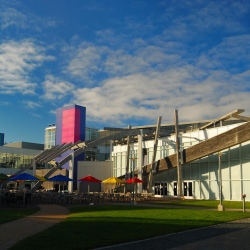 Google may be close to putting a substantial investment into Elon Musk's rocket company at a valuation at or above $10 billion. The Wall Street Journal, which cited several people close to the deal as its source, reported Google was poised to put $1 billion into SpaceX.

"The purpose of a deal, which is still in the works," The Information wrote, "is to support the development of SpaceX satellites that could beam low-cost Internet around the globe to billions who don't have it." That plan jibes with a concept Musk unveiled on Friday.

Google, of course, has pursued initiatives of its own to bring Internet connectivity to people in underserved areas. Its Project Loon concept was designed to connect people via a system of balloons. Facebook, too, is working on a solution to the problem: On the one hand, it has backed Internet.org, a nonprofit consortium that is building out connectivity infrastructure in the developing world. And on the other, Facebook's Connectivity Lab is working on huge drones that could one day beam Internet service into areas that need it.

SpaceX, of course, has been working on rockets designed to take satellites into space. Earlier this month, a SpaceX Dragon arrived at the International Space Station. It was the fifth of 12 such missions under a $1.6 billion NASA contract. That successful mission was overshadowed, to a certain extent, by the crash and explosion of SpaceX's Falcon 9 rocket as it attempted to land on a platform at sea.