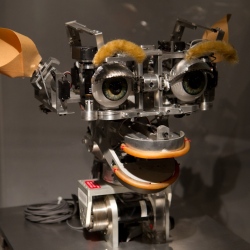 Foxconn, the world's largest electronics manufacturer, has worked with Google before, helping the technology giant assemble hardware like Glass. Now Google is in the position to give something back (beyond contract dollars).

Google's robotics team, headed by former Android executive Andy Rubin, is working with the Taiwanese contract manufacturer to accelerate automation efforts in its factories, according to a Wall Street Journal report.

Rubin recently met with Foxconn chairman Terry Gou in Taipei to discuss new robotics technologies, said the Journal. Gou reportedly proved receptive to Rubin's demonstrations, expressing excitement about the potential for automation.

Foxconn has already been replacing workers with robots as it faces rising labor costs and workplace disputes in China, where it employs more than a million people.

Google acquired eight robotics companies last year. Its December acquisition of military robots maker Boston Dynamics made the biggest waves, but several of the other robotics companies now under Google's roof are focused on areas highly relevant to automated manufacturing.

It could be a sizable new business for Google: Analysts expect Google to built a "robotic operating system" for manufacturers, not unlike its Android operating system for mobile devices.