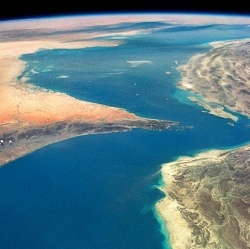 Skybox Imaging uses satellites to record highly detailed images and videos of landscapes, and provides analytics services to businesses. If the acquisition news is true, this would be the second aerospace-related company Google has scooped up this year, with the first being drone-maker startup Titan Aerospace.

Google is apparently ready to spend upwards of $1 billion to acquire Skybox, according to TechCrunch's sources. The purchase would enable the company to use Skybox's technology to improve its Google Maps and Google Earth services, and possibly even the recently announced Project Loon initiative.

We're reaching out to both Google and Skybox for confirmation and will update this post with any new info. Founded in 2009, Mountain View, Calif.-based Skybox Imaging has previously raised $91 million in funding from Asset Management Ventures, CrunchFund, Canaan Partners, Norwest Venture Partners, Khosla Ventures, Bessemer Venture Partners, and others.