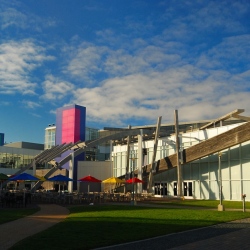 Milorad Trkulja had alleged that the US firm's image and web results had caused harm to his reputation. The 62-year-old had said the site had refused to remove the material when asked. He had previously won a related case against Yahoo.

Google has not commented on the verdict and might still appeal. The judge is expected to set the level of damages owed within a fortnight.

Mr Trkulja moved to Australia in the early 1970s after leaving Yugoslavia. He subsequently became a prominent member of the migrant community, hosting the Yugoslav-themed "Micky's Folkfest" television show in the 1990s.

In 2004 he was shot in the back by a man wearing a balaclava while at a restaurant. The crime was never solved, but a report by the Herald Sun newspaper later said that police did not link the attack to Melbourne's underworld.

As a result of the attack Mr Trkulja said that entering his name into Google Images brought up images of other people beneath which his name appeared.

He said some of these figures were allegedly murderers and one a drug trafficker. In addition the caption "Melbourne Crime" appeared beneath several of the photos, including one of Mr Trkulja himself, which he had alleged might lead users to believe he was a criminal.