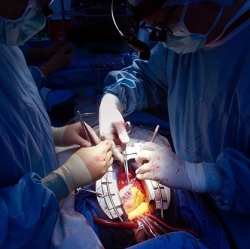 Google Life Sciences and the American Heart Association (AHA) announced that they're teaming together to fight heart disease. Both organizations have committed to donating $25 million each over the next five years to better understand and cure heart disease.

"With its devastating human impact on countless generations of families, cardiovascular disease, and in particular coronary heart disease remains the greatest and deadliest global health challenge we face today," said AHA chief executive Nancy Brown in a statement. "By working together, AHA and Google Life Sciences will be able to serve as the catalyst for change and transformation in reducing the impact of coronary heart disease on people's lives and alleviating this global burden."

The $50 million investment will fund one research team tasked with developing "a richer, deeper understanding of cardiovascular disease." Called the largest single research investment in the AHA's history, the team will include investigators and will design a program to discover new causes and drivers of coronary heart disease. The AHA says this team will also have support from across clinical research, engineering, data analysis, strategic counsel, and more from within its Joint Leadership Group.

According to the AHA, cardiovascular diseases are the number one cause of death globally, 17 million people have died due to different heart ailments. Coronary heart disease specifically is responsible for 7 million deaths each year. What has confounded researchers and health professionals are the root causes.

Targeting heart disease is the latest foray of Google Life Sciences as it previously set its eye on developing new ways to treat and manage diabetes. Now with a look towards heart disease, Google shows that it's aiming at all serious diseases including cancer and neurodegenerative conditions.