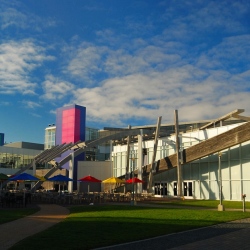 Google today launched Android One, its initiative for cheap-yet-high quality smartphones for developing countries. The program is debuting in India with three cheap devices starting at around $105 off-contract, and the company is also planning to expand the program to Indonesia, the Philippines, and the rest of South Asia.

While high-end Android devices will be a mainstay among gadget geeks, there's a much bigger opportunity for Google in focusing on the more than 5 billion people worldwide that currently don't have smartphones. After getting its hooks into those potential consumers early, Google will likely be able to make them lifelong customers.

Cheap Android devices have already helped the platform dominate smartphone market share (85 percent of smartphones shipped in the second quarter ran Android, according to IDC), but with Android One, Google is aiming to bring some stability to the low-end market. It's similar to Google's Nexus line, which highlights what Android can do for higher-end phones (while still focusing on relatively inexpensive off-contract pricing).

Google says it's working together with phone and component makers by sharing reference hardware designs, which could lead to cheaper devices with high-quality specs. Just like Nexus devices, Android One phones will get updates directly from Google, so users won't be beholden to the whims of their carriers. The devices also include features that are particularly useful for the developing world, like dual SIM capabilities, expandable storage, FM radio, and removable batteries.