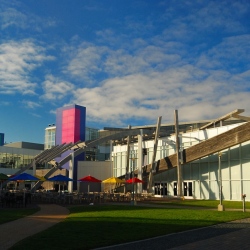 Google is getting two wacky interns.
Fox released the trailer for its comedy The Internship following two "salesmen whose careers have been torpedoed by the digital world." Played by Vince Vaughn and Owen Wilson, the two set off to Silicon Valley to prove that they are still relevant by landing internships at Google.
The trailer shows scenes from Google's "campus," including a clear dry-erase wall (that Vaughn writes on with Sharpie), a self-driving car, a Rubik's cube competition, and a bunch of smart twentysomethings who have it out for the two "old guys."
It's a tale of old-timey institutions being overrun by the newer, younger, digital revolution. At one point, those crazy Google youngsters send Vaughn and Wilson off on an adventure to find "Charles Xavier," a Stanford professor who is balding and in a wheelchair. It doesn't end well for the pair.
It goes to show how mainstream Silicon Valley is becoming. It started with The Social Network, which took brought Mark Zuckerberg's creation of Facebook straight into the heart of Hollywood. And of course, Bravo ran its own reality series about our tech community called Start-Ups: Silicon Valley. Now, we've got a focus on Google and its famed working culture of slides, great food, nap rooms, and more.
It's likely to elicit a reaction from former and present Googlers on how accurately the movie portrays their company, but for now it's just a funny interpretation of one of Silicon Valley's most well-known companies.
Check out the trailer and let us know what you think