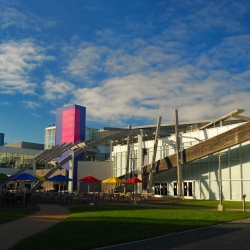 In 2019, you may check your email with the help of a balloon 12 miles up in the sky. Google Project Loon uses high-altitude solar-powered balloons instead of the usual land-based cell towers to provide your phone's wireless connection to the network. Google has tested it in Peru and expects to launch it as a real business.

"We believe in the next couple year we will be flying in a commercial context," said Loon chief Alastair Westgarth in an interview with Mobile World Live. The plan is to be profitable, not one of Alphabet's many other projects reliant on funding supplied by Google's immense online advertising business. "We intend for it to be a profitable business and a large business," Westgarth said.

In the Peru test this year, the Loon team partnered with carrier Telefonica to supply net access. Using 20 to 30 balloons, the Loon project covered an area the size of Switzerland to help improve net access during Peru flooding, Westgarth said.

The Loon team plans to offer it in partnership with carriers, helping them improve their coverage but not elbowing in on their businesses. Google has spoken to dozens of mobile network operators, Westgarth said.

Loon balloons stay more or less in the same place by changing altitude, taking advantage of differing wind directions to steer.