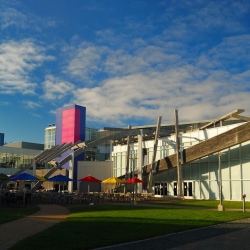 Google Ideas, a lab that has existed within Google for the past few years and occasionally announced initiatives like Project Shield and uProxy, is now a standalone technology incubator under Alphabet. Alphabet chairman Eric Schmidt announced the changes today.

"The team's mission is to use technology to tackle the toughest geopolitical challenges, from countering violent extremism to thwarting online censorship to mitigating the threats associated with digital attacks," Schmidt wrote. He added that Jared Cohen, who ran Google Ideas, will be president of Jigsaw.

The Google Ideas website is now redirecting to the new Jigsaw website at jigsaw.google.com, and Google Ideas' Google+ and Twitter profiles have also been rebranded.

"For one thing, the new name acknowledges that the world is a complex puzzle of physical and digital challenges. For another, it reflects our belief that collaborative problem-solving yields the best solutions," Schmidt wrote.

It's interesting to see Google Ideas live on because it has not garnered as many headlines as, say, Google X (now referred to as just X). But it seems that Google Ideas produced enough good ideas to keep it going, albeit with a new brand to go under the new Alphabet umbrella.