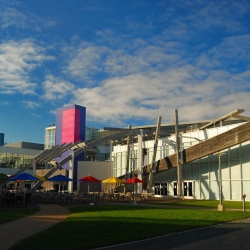 $50,175,000,000: That's Google's bottom-line earnings for 2012.
In a highly anticipated statement, the search/mobile/social/maps/kitchen sink titan revealed the grand totals for last year's business, including $14.42 billion for the final three months of 2012, up 36 percent year over year.
In a statement to investors, Google CEO Larry Page said the results are "not a bad achievement in just a decade and a half. In today's multiscreen world, we face tremendous opportunities as a technology company focused on user benefit. It's an incredibly exciting time to be at Google."
In response to the earnings news, Google stock was trading at $702.87 as of this writing, down less than 1 percent for the day and up around 8 percent over the past quarter.
The company stated its GAAP net income for Q4 totaled $2.89 billion (up from $2.71 billion in Q4 2011); net cash from operating activities was $4.67 billion (up from $3.92 billion in Q4 2011); and the total warchest of Google's cash, cash equivalents, and marketable securities came out to $48.1 billion as of Dec. 31. The company's full-time employee headcount includes 53,861 souls — 37,544 in Google proper and 11,113 in Motorola Mobile, with 5,204 employed by Motorola Home.