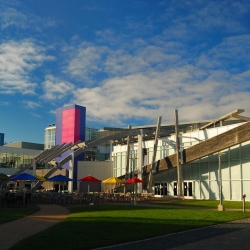 In another win for Silicon Valley, Google's shares soared as much as 16.8 percent on Friday, crossing the $700 mark and adding nearly $68 billion to its market value, as strong growth in YouTube viewership allayed concerns about Facebook Inc's push into video.

The stock's surge, which sent the Nasdaq composite index to a record intraday high, came a day after Google reported better-than-expected profit for the first time in six quarters. The rise in the Web search giant's market value was more than the total market capitalization of Caterpillar Inc, the world's biggest construction equipment maker.

Google's shares hit a record high of $703, valuing the company at $471.50 billion and cementing its position as the world's second most valuable company after Apple Inc. At least 27 brokerages raised their price targets on Google's stock by as much as $150 to as high as $800, with analysts also welcoming new Chief Financial Officer Ruth Porat's emphasis on disciplined spending.

At the highest price target, Google would be valued at $545 billion. Apple is valued at about $740 billion. The energy brought to Google by Porat, who joined in May from investment bank Morgan Stanley , is likely to drive the stock in the short and medium term, analysts say.

"She is known to be tough as nails when it comes to expense management …" FBN Securities analyst Shebly Seyrafi told Reuters. "A lot of investors are comforted by the fact that her first quarter as CFO, reporting, she is delivering."

Google said on Thursday that watch time for YouTube rose 60 percent in the second quarter and the video service had more viewers aged 18-49 on mobile alone than any U.S. cable network. Online video ads could be a $17 billion opportunity in the United States alone by 2017, Jefferies & Co analysts wrote in a note, and YouTube looks best positioned to benefit.

Google and Facebook are trying to woo big companies to market their products via online videos. But YouTube has an edge over Facebook as it has a more mature monetization platform that seems to attract the best content, Piper Jaffray analyst Gene Munster said.