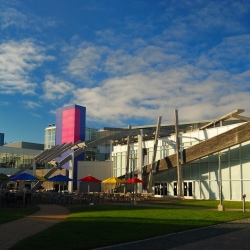 In the fourth quarter of 2012, Kansas saw the largest jump in average Internet connection speeds of all U.S. states compared to the fourth quarter of 2011, with an 86 percent surge. The next-highest increase was in Wyoming, at 51 percent.

Google began installations in November in Kansas City, Kansas, offering one-gigabit Internet connections—nearly 100 times faster than the U.S. average—for $70 per month, or $120 with television service, a Nexus 7 tablet remote, two terabytes of DVR storage, plus another a terabyte of cloud storage. The rollout and TV service had been announced a few months before. "It could be the case that the other incumbent providers were going, 'Oh, crap, we stand to potentially lose subscribers to this deal with Google if we don't provide competitive service,' " says David Belson, who authored Akamai's state of the Internet report.

In December, Time Warner Cable increased speeds of some services in the Kansas City area, boosting its "turbo" service from 15 megabits per second to 20 megabits per second and its fastest service from 50 to 100 megabits per second.

The competition may be even hotter in the newer Google Fiber battlegrounds. After Google announced plans for Austin, AT&T quickly announced it would match that effort with its own one-gigabit service, and Time Warner Cable sweetened its Internet plans with free Wi-Fi in public areas to existing customers.

Google Fiber customers were using far less than the available blazing speed. IP addresses associated with Google Fiber were seeing average connection speeds of twice the Kansas average of five megabits, and peak speeds of five times greater than the average of 25 megabits.