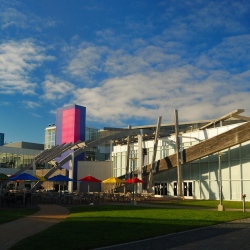 Google is rolling out a pilot program today that introduces a new way to pay cashiers and it involves leaving your phone in your pocket. It's called Hands Free, and it's a way to basically connect your phone with a point of sales system using the sensors on your phone.

The end result is that a point of sale device is already aware of your phone's presence, and when you want to pay for something, you can do so through Hands Free. The service is launching in a pilot in the Southern San Francisco Bay Area today.

"When you think about a user, in a bunch of situations, the experience is quite crummy right now, it's quite clunky," Google senior director of product management Pali Bhat said. "You don't want your phone in the way, your wallet in the way, you don't want your cash in the way. These are inconveniences that happen multiple times a day."

Users basically walk up to a cashier, which can detect that the phone is in the area and gives the point of sale system the ability to charge the user's card that's tied to Hands Free. The user tells the cashier that they will "pay with Google," and gives their initials to the cashier, who then inputs that and the transaction is closed. Cashiers also have a way to detect what the person looks like and whether it's the same person in the photo tied to a Google profile. The goal here is to reduce friction in the payments process.