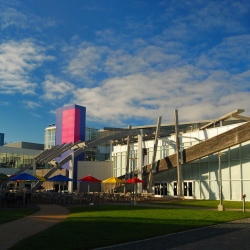 With the likes of Amazon's Alexa, Google's Assistant, Apple's Siri, and Microsoft's Cortana all vying for our attention it makes sense that companies would invest heavily in natural language processing (NLP).

After all, what's the point of asking Alexa or Siri to read you the football scores or weather forecast if the digital assistant doesn't understand your quirky brand of conversational speech?

But NLP is just as important in the written-word realm. Facebook, for example, has introduced NLP processing into Messenger to facilitate better interactions between humans and bots. For companies to embrace computer-powered customer service, machines have to understand things that come up as part of people's normal parlance.

With that in mind, Google last year launched the Cloud Natural Language API for developers to integrate Google's NLP technology into their own applications. This effectively means that any company has access to Google's NLP for their own use-cases, which may include analyzing the sentiment of customer feedback contained on social media or in emails, extracting meaning and metadata from unstructured text, or perhaps even identifying actions contained within minutes of meetings.

It's about automating the process of deriving meaning from vast quantities of content, which would be impossible with purely human involvement.

Today, Google is unveiling two new Cloud Natural Language features designed to help third-party developers organize content and understand their customers' feelings toward a particular "entity," such as company, product, or place.

Launching today as a beta feature is the ability to automatically classify content, which means companies can categorize all their content and documents based on shared attributes. Publishers, for example, could sort their articles into topics such as "Politics" and "Sports."

"Through predefined content classification, Cloud Natural Language can now automatically sort documents and content into more than 700 different categories, including Arts & Entertainment, Hobbies & Leisure, Law & Government, News, Health, and more," explained Google's Cloud AI product manager, Apoorv Saxena, in a blog post. "This makes it ideal for industries like media and publishing who've traditionally had to manually sort, label and categorize content. Through machine learning with Cloud Natural Language, these companies can now automatically parse the meaning of their articles and content to organize them more efficiently."

But this extends beyond broad top-level categories and into subtopics. Google said that it analyzed some stories from the New York Times and this lobster salad recipe was correctly filed under "Cooking & Recipes," but it was also tagged more specifically as "Meat & Seafood."

For major digital media companies, which may have dozens of websites covering numerous topics, using NLP not only helps categorize things but also helps identify readership trends by tracking how specific types of stories are performing — data that could be used to inform future coverage.

The Cloud Natural Language API already offered sentiment analysis, which was capable of figuring out the general mood and emotions in a given piece of text, be they "positive," "negative," or "neutral." But that can only tell you so much — what Google is now allowing through the API is the ability to analyze sentiment as it relates to specific entities, such as products, places, or companies.

This could be useful if you want to drill down into customer feedback forms or messages posted on Twitter. For example, a customer may be generally happy about their experience buying from a company, but they may not like an element of the product they bought. Conversely, they may like the product but not their dealings with the company they bought it from. The key selling point here is that businesses are better enabled to figure out exactly what a sentiment relates to. "Sentiment analysis is one of Cloud Natural Language's most popular features, now it offers more granularity with entity sentiment analysis," added Saxena.

Entity sentiment analysis was introduced as a beta feature along with a handful of other updates back in May, but it is now generally available to all users.