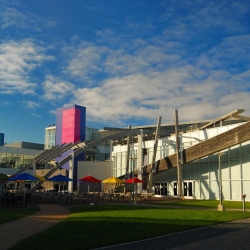 Google and Virgin are mulling a partnership that would see Google pour hundreds of millions into a joint venture, with Virgin Galactic providing tech for its space tourism business. The deal would also involve Google plunking down around $30 million in return for a roughly 1.5% stake in the Virgin Galactic holding company.

According to an unnamed source "close to Google," who told Sky News the investment could value Virgin Galactic at as much as $2 billion. The two companies have reportedly been talking about the alliance for months. The discussions are said to be at "an advanced stage," though Google and Virgin Galactic have yet to finalize the terms of the deal.

Reports suggest Google plans to lace the sky with at least 180 net-providing satellites that would enable folks in the developing world to access the web. Earlier this week, Google confirmed its $500 million purchase of satellite startup Skybox.

Google's not pinning all its hopes on satellites, however. The tech giant also plans to expand access to the worldwide web with solar-powered drones (courtesy of recently-acquired Titan Aerospace) and balloons. While Google surely believes that's a good thing for the developing world, its motives are not altruistic, more people on the web means more consumers of Google services and advertising.