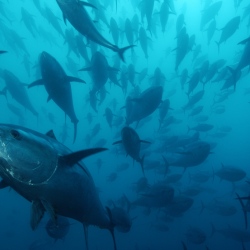 They are developing the ability to extract high grade material on one deposit and move to the next deposit 100kms away and extract ore in a matter of days

* they will be able to extract ore with minimal overburden, stripping and waste

* They are using robots to drill one mile below the ocean surface

* some of their deposits have over 30% copper

* They have been able to discover a new mineralized system every three days

* Production plan for Solwara project off of Papua New Guinea- 1.3 million tons/year containing 80,000 tonnes Cu and approx 150,000 – 200,000oz gold

Nautilus plans to start mining next year but also cites possible delays. It is building robots up to 25 feet tall that are to collect sulfides and pump them to the surface. Barges are then to carry the seabed minerals to Rabaul, a Papua New Guinea port some 30 miles away.