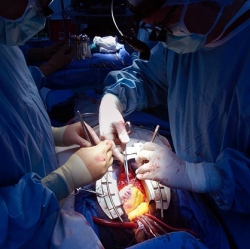 James Boysen, a 55-year-old software developer from Austin, Texas has become the first patient to receive a scalp and skull transplant while receiving kidney and pancreas transplants. More than 50 health care professionals assisted with or supported the double surgery over a period of more than 24 hours.

"This was a very complex surgery because we had to transplant the tissues utilizing microsurgery," said Michael Klebuc, M.D., the surgeon who led the Houston Methodist Hospital Plastic Surgery Team. "Imagine connecting blood vessels 1/16 of an inch under a microscope with tiny stitches about half the diameter of a human hair being done with tools that one would use to make a fine Swiss watch."

In 2006, Boysen was diagnosed with leiomyosarcoma, a rare cancer of the smooth muscle, on his scalp. Successfully treated with chemotherapy and radiation, he was left with a large, deep wound on his head that included the scalp and the full thickness of his skull down to his brain. In addition to the wound, which would require a major reconstructive undertaking, Boysen's kidney and pancreas, which were first transplanted in 1992, were failing. Diagnosed with diabetes at age 5, Boysen's declining condition over the years prompted the original double-organ transplant.