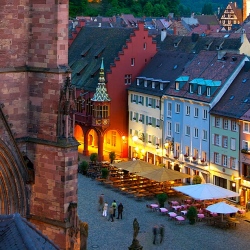 Slow Internet speeds and a lack of competitive pressure on Internet providers is a fact of life in communities throughout America. We've seen that competition can make a difference, notably with the entry of Google Fiber in certain markets, forcing incumbents to offer faster speeds and better deals.

But Google, or any single entity, can't be expected to upgrade the entire country to fiber. Even in Kansas City, the first Google Fiber location, the service still isn't available to everyone. So the leaders of at least a couple of cities are trying to take matters into their own hands and use whatever leverage they have to lure a new Internet service provider or convince an existing one to get on the fiber train.

"We've gone through the rounds of applying for Google Fiber," Ted Smith, director of economic growth and innovation in Louisville, Kentucky, told Ars, but his town didn't get the nod.

Louisville government officials believe, as many other municipal officials in US cities do, that fiber networks are crucial for attracting and retaining businesses, which increasingly need copious amounts of bandwidth to remain competitive. Fiber can also save residents from the frustration of slow cable and DSL speeds.
"We pay 34 times more, 34 times, not percent, 34 times more than peer cities that have already implemented fiber," said James Benham, a software company owner and elected City Council member in College Station, Texas, which is served by Verizon and SuddenLink. "If you compare our pricing to Chattanooga and Lafayette, who have already done citywide fiber to the home, and fiber to business networks, our commercial rates per megabit are 34 times higher. Our residential rates are 15 times higher. If that was our electric rates or our water rates there would be riots in the streets."

The discrepancy in per-megabit speed arises from cities with fiber deployments offering a gigabit per second at prices as low as $35 a month, or more typically, around $70 or $80 a month. People in many cities pay similar amounts just to get a fraction of a gigabit.

While businesses in the Bryan/College Station area pay $3,395 per month for 50Mbps download and upload, businesses only pay $99 for the same service in Chattanooga, Benham told Ars. Bryan/College Station officials are looking for affordable gigabit fiber for residents and 10 to 100Gbps for businesses, along with public wireless networks. The region includes Texas A&M and other institutions in a thriving research sector.