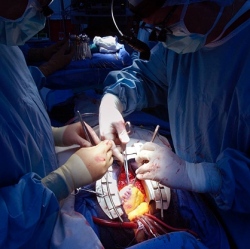 The family of a teenager from Surrey are trying to raise £22,000 for an operation which will stop her from vomiting up to 50 times a day.

Dannie Goodridge, 15, from Farnham, has been diagnosed with gastroparesis, which reduces the ability of the stomach to empty its contents.

Also known as stomach paralysis, it has led to her losing a lot of weight.

Dannie's mother Nikky said surgery involved fitting a gastric pacemaker to make the stomach contract when eating.

She said her daughter had been suffering from the condition since January 2011, and up until the diagnosis last week many people, including doctors, had wrongly assumed she had an eating disorder.

"It's been a hard 12 months.

"Everything she would eat, everything she would drink, even the tablets they gave her, would bounce off her stomach and come back up," Mrs Goodridge said.

She added that Dannie was permanently hungry and thirsty.

She said the diagnosis was finally reached after the family came across another girl in Liverpool with exactly the same symptoms.

"They suggested a doctor in Liverpool, and we went up to see him," Mrs Goodridge said.

"It's an incredibly rare condition. There's not a lot known about it."

A website has been set up to raise funds to pay for the operation, which Mrs Goodridge said had an 80% success rate.

'Bionic stomach'
She added that it would take a minimum of six months for the NHS to decide whether it would fund all or part of it.

Speaking on the site, Dannie said the condition had left her "badly dehydrated and malnourished".