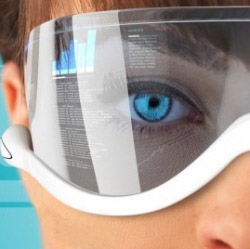 For those who wish they could better remember names and faces, a new demo app for Google Glass gives you notes on how you know each person.

Although the concept seems perfect for party or networking events, the app — called MedRef for Glass — was actually designed for hospital employees. By using facial recognition technology, staffers wearing Google's high-tech specs can pull up patient folders with photo, voice and text notes.

For example, a doctor might want to record that a certain patient likes to be rolled over on one side of their body or is allergic to nuts. And because the data is shareable with Google Glass, other nurses and physicians can have immediate access to this information.

The app was created by a team of computer programmers at a medical hackathon.

Here's how it works: MedRec adds timeline cards and sharing contacts via Google Glass. By saying a patient's name or taking a picture of their face, the device will bring up their records.

"Hospitals are full of very busy people — often with their hands full — who work with a lot of information," said Lance Nanek, a computer programmer who worked to develop the app. "Google Glass and making [data] wearable is especially being looked forward to there."