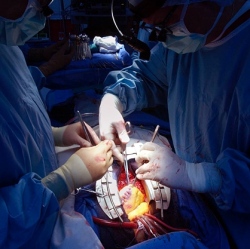 The National Institute for Health and Clinical Excellence says GPs could use it routinely to spot more patients with atrial fibrillation (AF). AF is an erratic and often fast heartbeat affecting 800,000 people in the UK and is a major cause of stroke.

The device NICE is recommending in England is called WatchBP Home A. It looks like a normal blood pressure monitor, with an inflatable cuff that goes around the patient's arm. At the same time as measuring blood pressure, it can check a patient's pulse.

NICE says GPs should consider using it for anyone who they suspect has high blood pressure or anyone who is having a check for high blood pressure. In this way, more cases of undiagnosed AF could be picked up and treated, which would ultimately save lives.

People with suspected AF, either because of their test result or symptoms like to dizziness, shortness of breath and palpitations, should still be sent for a heart trace called an ECG to confirm the diagnosis.

If people over 65 were to be checked with the WatchBP Home A device, it could save the NHS about £26m and benefit about 400,000 people, says NICE.

Prof Carole Longson from NICE said: "The guidance is not about screening for atrial fibrillation, but about the benefits that the device offers in helping to pick up atrial fibrillation by chance in people with suspected high blood pressure or those being screened for high blood pressure, in primary care."