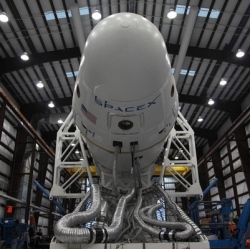 Following in the footsteps of Facebook and Google, Elon Musk is apparently setting his sights on bringing the world online by utilising cheap satellites. He's already got into the world of privatised space flight and electric cars, and now he might be doing this. Is there anything Elon Musk won't be doing?

According to the Wall Street Journal, Musk is collaborating with Greg Wyler, the man who led Google's venture into internet satellites earlier this year, in order to send over 700 satellites into space in order to provide the world with affordable internet. It's reported that they want each satellite to cost less than $1 million (£630,000) and weigh less than 113kg. Considering the current internet satellites weigh about 127kg, that's quite a lot to ask for.

Wyler apparently brought this idea to Google, but felt that the company didn't have the manufacturing capabilities to pull it off. Now that he and Musk are collaborating together they have reportedly started preparations for building factories in Florida and Colorado. Of course this does come with the added problems of regulation and the fact that they need $1 billion (£630 million) in funding before the venture can really kick off. At least they won't have to worry about finding a supply of rockets.