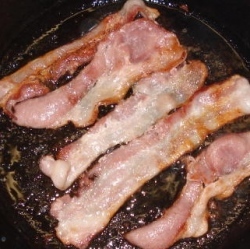 Gathered around a blazing fire, our ancient ancestors probably huddled to pass the archaic kebab, munching cooked meat and figuring out how they might share it and plan to get more of it. Eating cooked food allowed these early hominids to spend less time gnawing on raw material and digesting it, providing time–and energy–to do other things instead, like socialize. The strenuous cognitive demands of communicating and socializing forced human ancestors to develop more powerful brains, which required more calories–calories that cooked food provided. Cooking, in other words, allowed us to become human.
A new paper examines the metabolic restrictions of a raw diet, and suggests that our primate cousins are limited by their inability to heat their dinners. It bolsters the cooking hypothesis of Richard Wrangham, a primatologist and professor of biological anthropology at Harvard who believes cooking is our legacy.
Brazilian biomedical scientists Karina Fonseca-Azevedo and Suzana Herculano-Houzel note that the largest primates do not have the largest brains, a perplexing question. Encephalization (a larger brain size per body size than you'd expect) has long been thought to be a key feature setting humans apart from other primates, and mammals as a whole, but there is no consensus on how or why this happened.
"We consider this disparity to be a clue that, in primate evolution, developing a very large body and a very large brain have been mutually excluding strategies, probably because of metabolic reasons," the authors write. They're the first to try and quantify these limits.
"You would think, 'Surely people have thought about this stuff before,'" Wrangham said in an interview. "But nobody has ever thought about the fact that cooking gives you more energy."
This is a central thesis of Wrangham's 2009 book, "Catching Fire." He argues that the control of fire allowed early hominids to not only cook their food, but obtain warmth, allowing them to shed body hair and in turn run faster without overheating; to develop calmer personalities, enabling social structures around the hearth; and even to form relationships among men and women–in short, to become human.