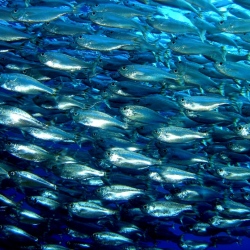 Last December, scientists announced that dolphins in Louisiana were experiencing lung diseases and low birthrates in the wake of the Deepwater Horizon oil spill that released more than 636 million liters of crude oil into the Gulf of Mexico in 2010. Researchers are now finding that the effects of the oil spill could be much greater:

Now, researchers have also found evidence of potentially lethal heart defects in two species of tuna and one species of amberjack, all economically important species for commercial fisheries.

This news, published in the Proceedings of the National Academy of Sciences today, comes less than a week after the announcement that BP will once again be allowed to explore the Gulf of Mexico for oil.

To study the effects of the BP oil disaster, scientists recreated the oceanic environment that yellowfin amberjack, yellowfin tuna and bluefin tuna larvae would have encountered in 2010 in the lab.

They did so by introducing the larvae to Deepwater Horizon oil samples at environmental conditions that matched those of the spill. Fish are extremely vulnerable during development, so studying fish larvae is the most direct way of demonstrating the effect of noxious compounds.

The researchers found that the fish exhibited a number of heart defects including slower heart rates, fluid accumulation, and arrhythmia, a condition characterized by an irregular heartbeat. In the areas where the oil concentrations were the highest, the oil would have caused the larvae to die of heart failure, says John Incardona, research toxicologist at the National Oceanic and Atmospheric Administration and co-author of the study.

Fish larvae that were located further away probably survived, but if these heart defects mean that "they can't swim as fast, so they are either going to get eaten or they won't be able to eat enough," he says. "That leads to reduced survival."